This is one of my absolute favorite recipes. I make it at least twice a month and it's just about the ONLY food I make that my mom will eat leftovers of.
It's.....VEGGIE LASANGA!*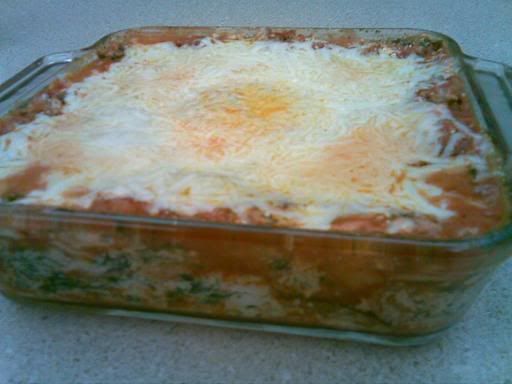 Ingredients:
15 oz can tomato sauce
15 oz can zucchini in tomato sauce
6 oz can sliced mushrooms, drained
8 no-boil lasagna noodles
2 Tbsp pesto
5 oz frozen chopped spinach, thawed and squeezed dry
1 lb ricotta cheese
1 1/2 cups shredded mozzarella cheese
1/2 cup grated parmesean cheese.
1 egg white
1 tsp dried oregano
1/4 tsp ground black pepper
1/4 tsp salt
Directions:
1. In a medium bowl, mix tomato sauce, zucchini (with sauce!), mushrooms and pesto.
2. In another bowl, mix the ricotta, spinach, half the mozzarella, half the parmesean, egg white, oregano, salt and pepper.
3. Spread a layer of tomato sauce in the bottom of a microwave-safe 8 x 8 pan.
4. Add a layer of noodles (if using the Barilla noodles, it only takes two).
5. Spread 1/3 of the spinach/ricotta mixture over the noodles, making sure they're completely covered.
6. Spoon 1/4 of the tomato sauce over the spinach/ricotta mixture.
7. Repeat steps 4-6 until you're out of ingredients!
8. Cover tightly with plastic wrap and nuke in the microwave for 10-13 minutes (or until the noodles are almost tender)
9. Scatter the remaining cheeses over the top of the lasagna and nuke for 5-7 minutes or until cheese is melted and sauce is bubbly.
10. Let sit for at least 5 minutes to let lasagna firm up (it'll make it easier to serve).
*This recipe is a combination of a few different recipes and some of my own tweaking. Above is the basic recipe that I've come up with. Below are some of the variations that I've been known to use and some helpful tips.
1. The only place I regularly find cans of zucchini in tomato sauce is at Wal*Mart next to the jarred white asparagus and canned pickled beets. You know, the can section you walk by and wonder who actually buys the stuff. Some people are leery of the zucchini in tomato sauce, but when trying this recipe for the first time, just go for it. If you REALLY end up not liking it, it's super easy to get the chunks out as you're eating and it doesn't affect the flavor of any other ingredients.
2. The zucchini in tomato sauce comes in huge chunks. Sometimes I leave them that way, other times I like to run a knife through the bigger pieces before mixing them in the sauce.
3. I like to use the
Barilla Oven Ready Lasagne
noodles. They're the PERFECT size when using an 8 x 8 baking dish. And they're oven ready, which makes layering the lasagna REALLY easy because you don't have to pre-boil them.
4. When you're squeezing the spinach dry, make sure it's REALLY dry, otherwise the lasagna will be too runny.
5. I like making my layers a little thick, so I usually end up only using 6 of the 8 lasagna noodles.
6. I REALLY love spinach, so I usually buy the 10 oz packages of frozen spinach and throw ALL 10 oz into the recipe. I personally think it holds the lasagna together much better this way and is much more delicious.
7. I usually have a jar of minced garlic on hand, so I'll throw a teaspoon or so into the sauce.
8. A 1/4 cup or so of chopped green onions added to the spinach/ricotta mixture is really delicious.
9. If you like the top layer of cheese to be crispy instead of gooey, you can put the lasagna in the oven instead of the microwave. If cooking in the oven, DON'T cover the dish with plastic wrap like in the microwave directions; put it on a cookie sheet just in case the sauce bubbles over the edge of the dish.
10. When you spread the first thin layer of tomato sauce in the bottom of the dish, try to keep out any large chunks.
11. When I use 10 oz of spinach instead of 5, it REALLY fills up the 8 x 8 dish, so put a few paper towels under the dish in the microwave to soak up any sauce that might bubble over.